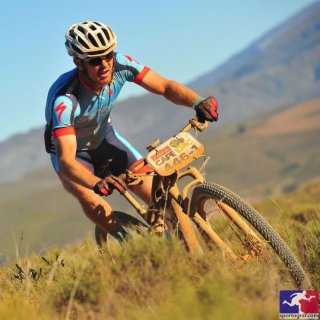 Races in:
Masters Men
MTB'g and the great outdoors outdoors in general is entrenched as part of my life. I love riding, seeing new places, riding with a great group of inspired people, encouraging others and improving my own abilities as a result. MTB'g and the friends I have met through this adventure have contributed to me as a person.
On the competition side of things, competing / racing is what drives me to new levels. It continually encourages me to challenge what is possible. As a result I have been very fortunate, culminating in the winning of the 2013 Australian Marathon Championships for my age category. This launched a successful campaign in 2014, not just finishing but competing in the largest MTB race of them all the Absa Cape Epic.
My results and the family and friends who have made this possible, have challenged me to set new goals and achievements. 2015 is already looking exciting, with the 2015 Australian Marathon Championships before heading to Europe to compete in the 2015 Craft Transalp.
Looking forward to another year of hard work, and all the benefits and inspiration that result. Join me on the journey !
I will leave you with a quote that both drives and inspires me:
"Only those who will risk going too far can possibly find out how far one can go"