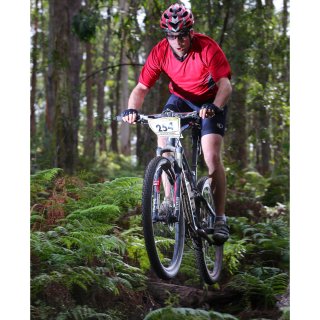 Races in:
Veteran Men
I finished Uni in 2002 and was looking for a way to regain some fitness after 4 years of engineering uni lifestyle taking its toll. I decided to give mountain biking a crack and bought a GT Avalanche hardtail. I loved getting out on the bike but admittedly it spent more time in the garage than anywhere else over the following 5 years. I got back into riding again around 2007 when I met Kath. This was mainly on a road bike and during this time, with the help of Kath, we sorted out my nutrition and I lost 17 kilos, significantly improving my health and performance on the bike. Then a few things happened that steered me back into mountain biking:
1. We moved to Terry Hills
2. I discovered Strava
3. I bought an Epic
Moving to Terrey Hills meant mountain bike rides no longer involved packing the bike in the car, driving somewhere, packing it back and driving home etc... suddenly everything was on my door step.
Discovering Strava, I am not ashamed to say, gave me the drive to constantly improve my riding and I consider it my number 1 training tool. Once I started to see some good results on mountain bike trails I was totally hooked.
Then, in 2013 I decided to give the Convict 50km a go. After some on and off training I bought an s-works epic a week before the race (a bike I had been drooling over for years) and gave it a go, ending up 49th overall out of 784. Considering my previous attempts at racing were a 381st / 591 in the 2012 100km highland fling and some casual teams of 4 in two 24 hour races, I was very happy with this result. So I started to train more regularly (I.e. once a week) and compete in some 50km races, improving my placing each time. This year I have been trying to build that up with my aim to be competitive in the 4-5 hour (100km) races by early 2015.
I am thrilled to be riding with SXC and have already picked up some great pointers in the very little time I have spent with the team. Looking forward to some fast and enjoyable riding ahead!