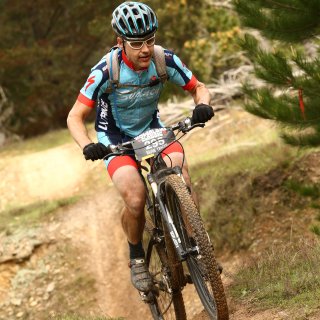 Races in:
Masters Men
In 2001 a guy at work was into mountain biking and before I knew it I had bought my first serious mountain bike. It was an alloy Giant NRS and one up from the base model. My rides would consist of driving to Manly Dam, doing one lap and then driving home. Unfortunately I didn't stick with it because after about 15 months in I started a new job which kept me from doing any exercise at all.
Fast forward to 2007, where I was about 20kg heavier than I am today, and it was time to do something about my health. I changed jobs, dusted off the bike and started gradually riding again. Not knowing much at all about the sport I came across a local mountain bike site called NoBMoB and signed up for my first group ride. From this ride on I was hooked.
I entered my first race which was the Dirtworks 50 half marathon. It took me 02:46:32 and I came in 222nd overall and 97th in my category. It wasn't until 2010 where I completed my first full marathon, the Dirtworks 100. It took me 07:32:52 and I came in 594th overall and 240th in my category. I've raced this event, now called The Convict, every year since 2010 with my latest one taking 04:33:36 and I came in 48th overall and 10th in my category.
Over the years I've made some great friends which have all inspired me to keep pushing myself and looking for that next challenge. For 2014, I have teamed up with Wayne and we are heading over to South Africa to compete at the ABSA Cape Epic in the Male Masters category.
You can also see other races we are doing here.