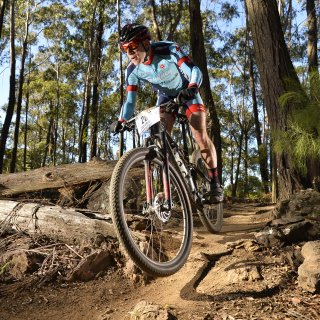 Races in:
Veteran Men
Arriving from the UK in 2007 I found myself looking for a sport to take up, primarily just to keep fit. I owned a mountain bike so it seemed like the logical choice. A quick search on the internet led me to Manly Dam and with route in hand courtesy of NoBMoB I went for my first ride. That was it, from then on it became a regular ride.
Come 2011 I finally entered my first event, the Three Ring Circus. I'd finished in just under 3hrs and at the end I didn't know why it had taken me so long to enter a race, I'd loved it. I did a few more Half Marathon races in 2011 but after the Fling and a bit of 'gentle persuasion' from Brian I decided it was time to up the stakes and tackle the full Marathon races.
2012 saw me tackle the Convict, the Husky and of course the Fling. Those results have now set the targets to be beaten over the course of 2013 and beyond. Riding with the other members of the team has added a great level of motivation to constantly improve and push harder.