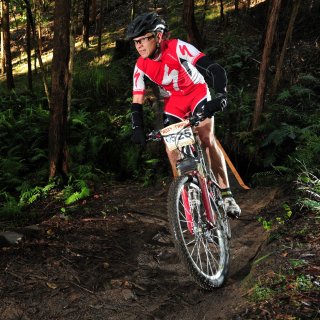 Races in:
Super Master Men
I had a fairly slow start to MTB Racing. In 1995 my wife and I went mountain biking at Terrey Hills a few times with one of her friends on borrowed bikes, and the next time her friend visited she came home with her first mountain bike. We shared the bike for a while although I only rode every month or so. In 1998 I purchased my first mountain bike, I've still got it and get it out every few months for a ride. Fast forward to December 1st 2009, its my brother's birthday and he managed to convince me to do the Dirtworks. In the next few months I went from riding 2 or 3 times a month to twice a week and survived the rock gardens during my first GNR training ride.
Come race day I enjoyed the 50K so entered Husky as my first 100K race. Riding the Husky I was hooked, the singletrack had me smiling the whole race. Next up was my first and only Solo 24 during a trip to Brisbane to support my brother in a pre worlds 24hour event.
I have been riding a Specialized Epic since 2010 and have enjoyed racing everything from XC to 100k, and even one very hot 6+6 out at Del Rio. I love the team aspect of the 24hour races and we have managed to get on the podium in masters a few times.
MTB will always be my passion although I have to admit that the dark side and particularly road criterium's can be fun.