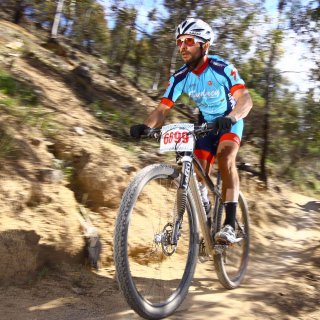 Races in:
Masters Men
My introduction to mountain biking, and cycling generally, was back in the UK in 2006. I'd recently settled into a job in Manchester and took a call from friends in Leeds saying they were off to the Lake District for a camping/mountain biking weekend and would I like to join them on a spare bike, I jumped at the chance. Armed with my snowboard helmet and woefully under prepared I was in the car off to the mountains for my first experience of mountain biking and I loved it. Soon after I'd bought a bike of my own and had been roped into a 24 hour race as a last minute replacement, my first experience of racing, which in typical UK fashion was wet and muddy.
Work brought me to Australia in October 2008. Manly Dam was my first experience of Sydney trails and through the offer of my spare tube to some guys on the side of the trail got to meet what would turn out to be some regular riding friends and we all entered the Dirtworks in 2009. In the lead up we had regular training rides and my first +100km off road ride on Oaks/Andersons was in excess of 9 hours (a full, and painful, day out)! I'm happy to say that things have improved since then and consider that the 2013 Convict was my best Enduro to date.
Cycling is a regular part of my life, from commuting, road rides with the guys on the team and mountain biking, socially and competitively, they are all positive experiences and I have made some great friends as a result, long may it continue.