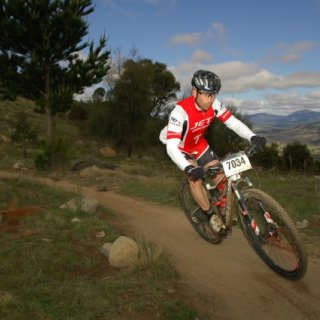 Races in:
Masters Men
Back in early 2007 a mate of mine, Miles, finally convinced me to give mountain biking a go. He had been hooked for some time and always talked about the great places he got to see and the fitness he was gaining.
I had never ridden a mountain bike so it was all a new experience to me. Miles organized a loan bike for me - my first ride was initially a bit tentative but as the day went on I got seriously bitten by the MTB bug. The next day I went and bought my first bike, a Giant Trance.
Later in 2007 I did my first MTB race, the 55km Highland Fling, a race I have done every year since – my return to Mecca if you like. That first race was such a buzz I took to the racing scene and everything has gone up a notch since then. In my first Highland Fling I came about 100th, last year I got a 13th in my category and almost an hour faster.
These days I ride a Specialized EPIC MTB and Tarmac SL4 on the road. I continue to enjoy the freedom that cycling offers as well as all the great people you meet along the way. The team at SXC Racing is a great bunch of like-minded people, who love cycling for the enjoyment and camaraderie but also the thrill of competitive racing.
2012 has been a bit interrupted by injury so I look forward to the year ahead as we enter a number of team based and individual events and hopefully pick off a few podiums along the way!