My first weekend away has been an eventful one. I have managed to MTB across three countries (Germany, Italy, and Austria) in 2 days which in itself has been pretty amazing.
Leaving Bavaria, Germany on Friday night had us arriving just in time for registration for the Dolomiti Superbike in the Trentino region of Italy. The panoramic vistas of the region have to been seen to be believed and we were to be blessed with perfect weather (28 degrees and sunny) for the race.
Registration and the event expo was something to behold. It was like the Sydney Royal Easter show, with the town square setup in festival mode to welcome over 5500 competitors to ride the amazing Dolomites the next day. The town, the people were amazing – and everybody here to compete in a MTB race.
The race for me and my Transalp partner was to be preparation / training ride, as we had never ridden together in a race before. As a result we chose to start in the 3rd group of the day, which meant there were approximately 2000 riders lined up to start ahead of us, and 2000 riders behind us. I have never witnessed anything of this scale before – the entire main street of this small Italian town was full from wall to wall with MTBer's.
With the start being basically a 300m hill climb, on a paved 2m wide cycling trail, we quickly learned we were in for a long day. With the blast of the gun, we spent the next 30-40mins in a slow procession up the hill. There was no point in trying to overtake as with 2000 riders in front there was nowhere to go. It was just sit in joke, talk and chat about the day with everybody around you, whilst you climbed a 10% gradient at snails pace.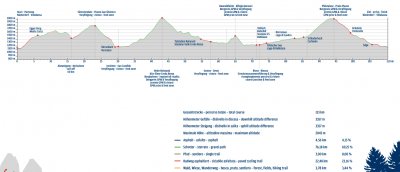 After the first hour the field had started to spread out and some space was created so we could stretch our legs a little. We pushed up the next climb, and were ready for the first major descent. This is where things got a little scary. Given the trails are mainly buffed fire road, the course lent itself to anyone who was cycling fit and could climb – no skill level except for fitness was really required. When it came to the descents you had all varieties of skill levels descending, on mass at speed, shouting a combination of languages from Italian, French, German to others around them. To top this off the speed people were descending had absolutely no correlation to their skill level. In one section of firetrail we were descending, a single large tree root spread across the trail, not knowing how to manage this type of obstacle in the trail we had riders go from 70kmh to a direct stop to get off their bike and walk over the tree root – I kid you not ! This type of scenario (there were numerous others) and the proximity of so many riders around you was very disconcerting. Thankfully, being my first euro marathon I proceeded with as much caution as possible to get myself to the bottom unscathed.
The next obstacle was the biggest climb of the day almost 900m to the topping out over 2000m. We started strongly, but after around an 1hr of climbing things to started to get all out of shape for myself. We were now just over 1600m, and as the trail got steeper with some ramps of 20% plus, I could no longer breathe easily. This continued all the way to the top, and although my legs were strong and I could continue pedaling, I had no power, and could not exert myself anywhere in to threshold or above without being short of breath. I finally made it to the top after around 1.5hrs, but my day was done.
I limped down the next decsent and over the next small climb at the 65km mark, with around 4hrs riding time on the garmin. With a choice of taking the shorter race option and heading back DOWN to the village or proceeding to another 900m climbing topping out at 2000m once again, the choice was easy, and down to the village I headed. Taking the short option I ended the day with 76km and over 2500m climbingin 4.5hrs – welcome to the Euro Marathon scene. The hills are big, the rider fields enormous, it really puts what we do back at home into perspective. I was somewhat humbled by the experience - still not a bad hitout in preparation for next week. I have the hope of this ride and a few more training rides at altitude will put me in good stead for the Transalp.
Returning to the event village and celebrations was amazing. With the event being on a Saturday, there was a 5000 rider strong party pumping back in the village by late afternoon. The Euro's definitely no how to put on a show and have a good time. I have attached a few pic's courtesy of Dolomiti Superbike to give you an idea of the enormity of this event.