Being an avid MTB'r, and someone who takes pride in their bikes and equipment, I was looking for a more reliable and longer life replacement for my bikes bearings and bottom brackets. Training and racing MTB in all types of conditions, from mud, rain, rivers to dry, dust, and sandstone based environments seem to take a heavy toll on my bearings and bottom brackets in particular. Even with my bike being serviced and cleaned regularly I was using 2-3 bottom brackets a season, not to mention the creaking that becomes evident as they approach the end of their useful life.
After some research, and enquiry with some friends and racers, I was introduced to C-Bear.com. The company specialises in producing ceramic bearings and bottom brackets that just work. Their precision and quality is supported by a 2 year warranty (with no and/or/if/then conditions attached) - they believe in their products reliability and performance !
After a couple of calls and a simple lookup of the C-Bear Bottom bracket quick selection guide (https://www.c-bear.com/bbchart.pdf) a new bottom bracket for my Specialized Sworks Epic World Cup was in the post.
On arrival and unpacking the first thing you notice is that the bottom bracket shell is in an aluminium housing, not the usual plastic housing used by OEM's or other manufacturers. It looks and 'feels' like a high quality product and so it should be given the quality and performance outputs that you are expecting. The ceramic bearings were very smooth and efficient, which I guess is what you would expect. They came lightly greased – apparently with a special formula designed for MTB / cyclocross riding conditions.
Installation was a breeze, the boys at Cyclery Northside removing the old – cleaning out the gunk of the past – and simply pressing in the new bottom bracket shell. The whole unit is a precision fit, and one size does not fit all, select the right model for your bike and crankset combination and installation is simple.
Before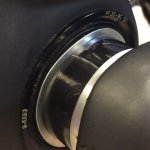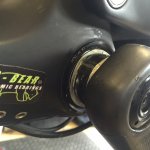 The new C-Bear bottom bracket has been installed on my Sworks Epic MTB for 4 mths now, with over 2500km of offroad training and racing. I have just raced in the Pioneer MTB Stage race across the South Island of New Zealand through a very testing environment, sand, dirt, deep rivers with no mechanical issue, noise, vibration or movement – the product does really live up to the product branding - Silent Speed Performance. I know it's hard to get excited about a bottom bracket – but I think one thing we all appreciate is a quality product that does what it says it does. Now instead of replacing / maintain this component 2-3 times per year, I now won't be replacing anything for 2 years – leaving me more time to do what I love – RIDE !
After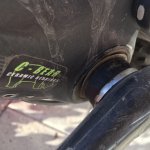 In summary:
Where do I get it ?:
www.c-bear.com
Pro's:
- High quality, precision manufacturing
- Does was it says it does
- 2 year warranty (no if's / buts / maybes)
Con's:
- Higher price (approx Euro 120) than similar (non ceramic) OEM products – but you get what you pay for right ?
- No local (Australian) distributor at this stage – we all know how to use the internet though !